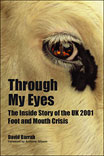 Click image for a larger view
The inside story of the UK 2001 Foot and Mouth Crisis
The inside story of the UK 2001 Foot and Mouth Crisis
The foot and mouth crisis may seem like yesterday's news to some, however it was a defining time for British farming and its legacy is still with us today. It was a crisis that demonstrated the effects of successive UK government policies on the farming industry. It showed how the failure of the government to support UK farming had turned the industry into a 'house of cards' where a crisis such as the foot and mouth outbreak became a matter of when, not if.
'Through my Eyes' is a book that tells of the devastating impact the foot and mouth crisis had on individual farmers, on the countryside and on animal welfare. The book is the personal account of Mr David Barrah, the former head of the Meat Inspection Service at the City of Bristol and now a part-time lecturer in meat hygiene and animal welfare at Bristol University School of Veterinary Science at Langford and freelance meat hygiene inspector and trainer with the Meat Hygiene Service. David was heavily involved in the execution of government policy in relation to the crisis, working on farms to carry out the slaughter of animals and the disposal of carcasses. David recounts the emotional stresses placed on farmers during the crisis, the inadequacies of animal welfare and how the crisis was used to turn farmers away from being custodians of the countryside into agents of flawed government policy. The book also highlights how we are as likely to suffer a foot and mouth crisis today as we were in 2001.
David Barrah's vivid account is not for the squeamish. But is does provide a hugely valuable insight into the true nature of the 2001 foot and mouth epidemic - the biggest single disaster to befall the British countryside in modern times.
Anthony Gibson, Regional Director, South West Region,
Publication Date: November 2005
ISBN number: 0 95502 190 1